ABOUT US
If you are looking for ways to engage with business men and women committed to serving our community and our world we invite you to become one of 1.2 million Rotarians around the world by joining The Rotary Club of St. Petersburg, the largest and oldest service club in our community.
We invite you to visit us at our Friday meetings at noon at the St. Petersburg Yacht Club.  It would be our pleasure to have you as a guest. If you would like more information, contact us today!
20 REASONS TO JOIN ROTARY
1. Friendship: In an increasingly complex world, Rotary provides one of the most basic human needs: the need for friendship and fellowship. It is one of two reasons why Rotary began in 1905.
2. Business Development: Rotary is business development. Everyone needs to network. Rotary consists of a cross section of every business community. Its members come from all occupations. Rotarians help each other and collectively help others.
3. Personal Growth and Development: Membership in Rotary continues one's growth and education in human relations and personal development.
4. Leadership Development: Rotary is an organization of leaders and successful people. Serving in Rotary positions is like a college education. Learning how to motivate, influence and lead leaders.
5. Citizenship in the Community: Membership in a Rotary club makes one a better community citizen. The average Rotary club consists of the most active citizens of any community.
6. Continuing Education: Each week at Rotary there is a guest speaker program
designed to keep one informed about what is going on in the community, nation, and world.
7. Fun: Rotary is fun, a lot of fun. Each meeting is fun. The club projects are fun. Social activities are fun. Serving others is fun.
8. Public Speaking Skills: Many individuals who joined Rotary were afraid to speak in public. Rotary develops confidence and skill in public communication and the
opportunity to practice and perfect these skills.
9. Citizenship in the World: Every Rotarian wears a pin that says, "Rotary International." There are few places on the globe that do not have a Rotary club. Every Rotarian is welcome – even encouraged – to attend any of the 35,000 clubs in over 200 nations and geographical regions. This means instant friends in both one's own community andin the world community.
10. Assistance when Traveling: Because there are Rotary clubs everywhere, many a Rotarian in need of a doctor, lawyer, hotel, dentist, advice, etc., while traveling has found assistance through Rotary.
11. Entertainment: Rotary holds conferences, conventions, assemblies, and institutes that provide entertainment in addition to Rotary information, education, and service.
12. The Development of Social Skills: Every week and at various events and functions, Rotary develops one's personality, social skills and people skills. Rotary is for people who like people.
13. Family Programs: Rotary provides one of the world's largest youth exchange programs; high school and college clubs for future Rotarians; opportunities for spouse involvement; and a host of activities designed to help family members in growth and the
development of family values.
14. Vocational Skills: Every Rotarian is expected to take part in the growth and development of his or her own profession or vocation; to serve on committees and to teach youth about one's job or vocation. Rotary helps to make one a better doctor, lawyer, teacher, etc.
15. The Development of Ethics: Every Rotarian is expected to be ethical in business and person relationships.
16. Cultural Awareness: Around the world, Rotary is a cross section of the world's most prominent citizens from every background. Rotarians become aware of their cultures and learn to love and work with people everywhere. They become better citizens of their
countries in the process.
17. Prestige: Rotary members are prominent people: leaders of business, the professions, art, government, sports, military, religion, and all disciplines. Rotary is the oldest and most prestigious service club in the world. Its ranks include executives, managers,
professionals – people who make decisions and influence policy.
18. Nice People: Rotarians above all are the nicest people on the face of the earth. They are important people who follow the policy of "it is nice to be important, but it is more important to be nice."
19. The Absence of an" Official Creed": Rotary has no secret handshake, no secret policy, no official creed, no secret meetings or rituals. It is an open society of men and women who simply believe in helping others.
20. The Opportunity to Serve: Rotarians provide community service to both local and international communities. This is perhaps the best reason for becoming a Rotarian: the chance to do something for somebody else and to sense the self-fulfillment that comes
in the process and return of that satisfaction to one's own life. It is richly rewarding.
GIVE
COMMITTED TO TAKING ON SOME OF THE WORLD'S MOST PRESSING CHALLENGES
Through the generosity of people like you, our work has made a difference in the lives of millions around the world. Your gift to
The Rotary Foundation

 
allows us to improve communities by promoting peace, preventing disease, bolstering economic development, and providing clean water and sanitation.
When you give to Rotary, you support the work we do in your community and around the world. We are a responsible organization that uses nearly 90% of our funding for program expenses.
JOIN
WE ARE 1.2 MILLION NEIGHBORS, FRIENDS, AND COMMUNITY LEADERS.
Our diverse occupations, cultures, and experiences give us a unique perspective. Our shared passion for service helps us accomplish remarkable feats. 
Through our programs for emerging leaders, we're also helping young people get the skills and experience they need to make a real difference in the lives of others. We offer both service clubs and programs to help students and young professionals strengthen their leadership skills, expand their world understanding, and make new friends. 
With clubs in nearly every country, Rotary's positive impact on communities around the world has never been greater. If you share our passion for creating lasting change, contact our club to learn how you can join . 
"WHATEVER ROTARY MAY MEAN TO US, TO THE WORLD IT WILL BE KNOWN BY THE RESULTS IT ACHIEVES."
– PAUL P. HARRIS
Our 1.2 million-member organization started with the vision of one man—Paul P. Harris. The Chicago attorney formed one of the world's first service organizations, the Rotary Club of Chicago, on February 23, 1905 as a place where professionals with diverse backgrounds could exchange ideas and form meaningful, lifelong friendships. Rotary's name came from the group's early practice of rotating meetings among the offices of each member.
OUR ONGOING COMMITMENT
Rotarians have not only been present for major events in history—we've been a part of them. From the beginning, three key traits have remained strong throughout Rotary:

We're truly international. Only 16 years after being founded, Rotary had clubs on six continents. Today we're working together from around the globe both digitally and in-person to solve some of our world's most challenging problems.
We persevere in tough times. During WWII, Rotary clubs in Germany, Austria, Italy, Spain, and Japan were forced to disband. Despite the risks, many continued to meet informally and following the war's end, Rotary members joined together to rebuild their clubs and their countries.
Our commitment to service is ongoing. We began our fight against polio in 1979 with a project to immunize 6 million children in the Philippines. By 2012, only three countries remain polio-endemic—down from 125 in 1988.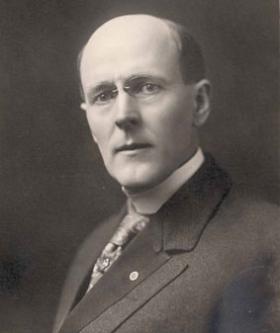 NOTABLE ROTARIANS
Rotarians are your neighbors, your community leaders and some of the world's greatest history-makers:
Warren G. Harding, U.S. president
Jean Sibelius, Finnish composer
Dr. Charles H. Mayo, co-founder of Mayo Clinic
Guglielmo Marconi, Italian inventor of the wireless radio and Nobel laureate
Thomas Mann, German novelist and Nobel laureate
Friedrich Bergius, German chemist and Nobel laureate
Admiral Richard E. Byrd, American explorer
Jan Masaryk, foreign minister of Czechoslovakia
H.E. Soleiman Frangieh, president of Lebanon
Dianne Feinstein, U.S. senator
Manny Pacquaio, Filipino world-champion boxer and congressman
Richard Lugar, U.S. senator
Frank Borman, American astronaut
Edgar A. Guest, American poet and journalist
Sir Harry Lauder, Scottish entertainer
Franz Lehar, Austrian composer
Lennart Nilsson, Swedish photographer
James Cash Penney, founder of JC Penney Co.
Carlos Romulo, UN General Assembly president
Sigmund Sternberg, English businessman and philanthropist