What is Rotary?
The Rotary Club of St. Petersburg turned 100 years old on January 2, 2020. The club was one of the first 200 clubs chartered by Rotary International (today there are over 35,000 clubs worldwide). It was founded by former St. Petersburg Times editor, William Straub and other community leaders. 
We're an international SERVICE club with 1.2M members worldwide, not a social club. Being a social is a byproduct of what we do to help our community and those less fortunate throughout the world. 
If you are looking for ways to engage with business men and women committed to serving our community and our world we invite you to become one of 1.2 million Rotarians around the world by joining The Rotary Club of St. Petersburg, the largest and oldest service club in our community.
We invite you to visit us at our Friday meetings at noon at the St. Petersburg Yacht Club .  It would be our pleasure to have you as a guest. If you would like more information, contact us today!
See us on LinkedIn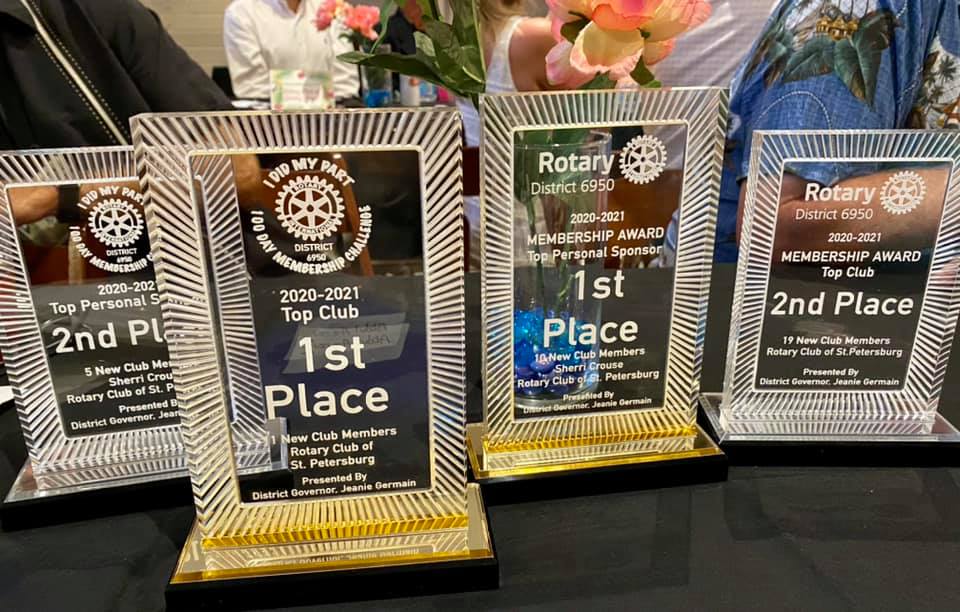 Rotary Club of St. Petersburg achieved ShelterBox HERO recognition for Rotary Year 2021-2022. ShelterBox is one of the many organizations that St. Petersburg Rotary Club is supporting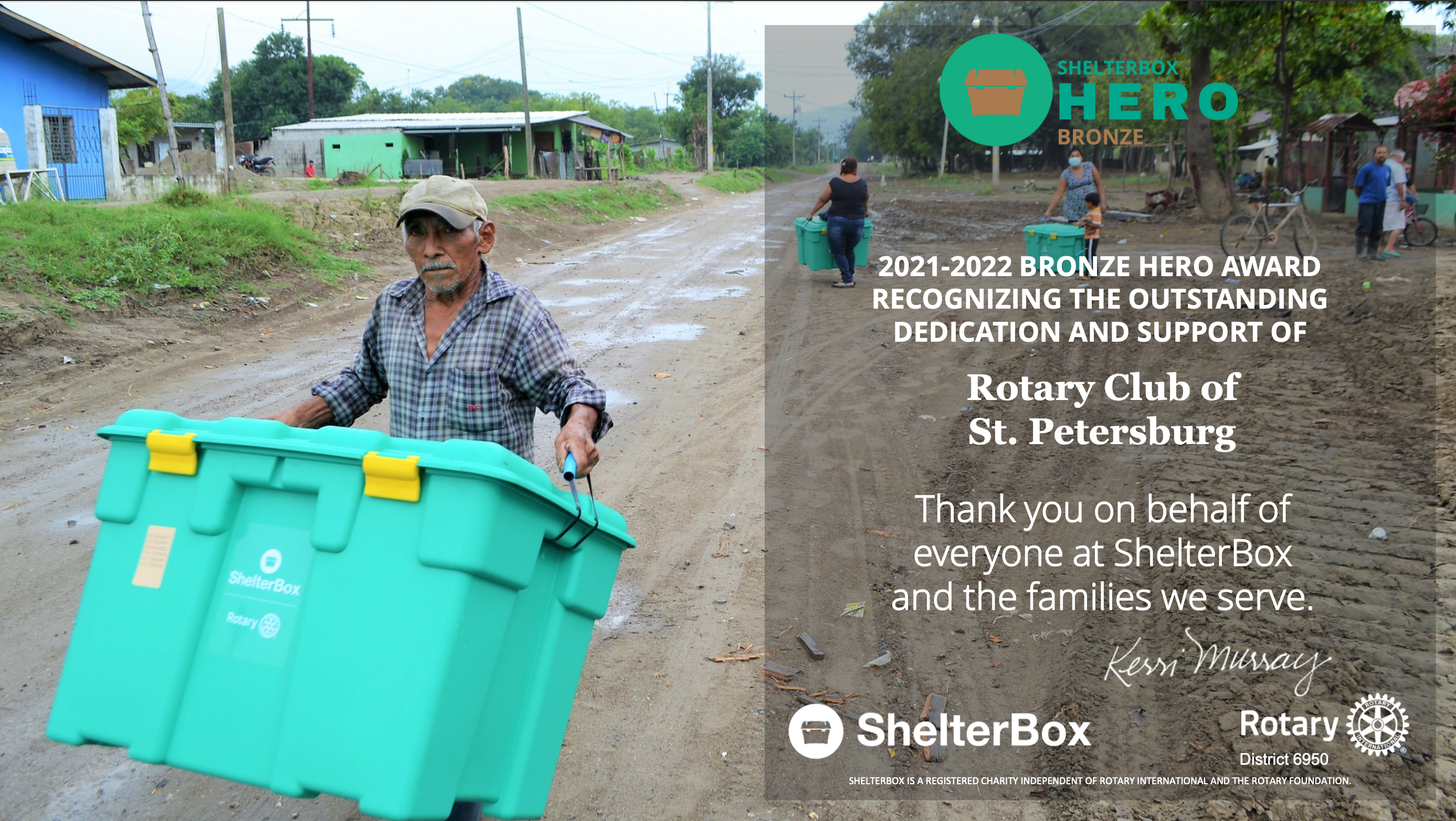 Rotary district 6950 is collecting the listed items only between Saturday 10/01 through Saturday 10/08. Items are to be dropped off at the specific "Drop Off Locations" for your Club's Area. We will need volunteers to load those supplies onto a truck on the evening of 10/08. Items will be shipped to District 6960 on Sunday 10/09.
PLEASE SHARE THIS FLYER ON YOUR SOCIAL MEDIA AND WITH THE PUBLIC.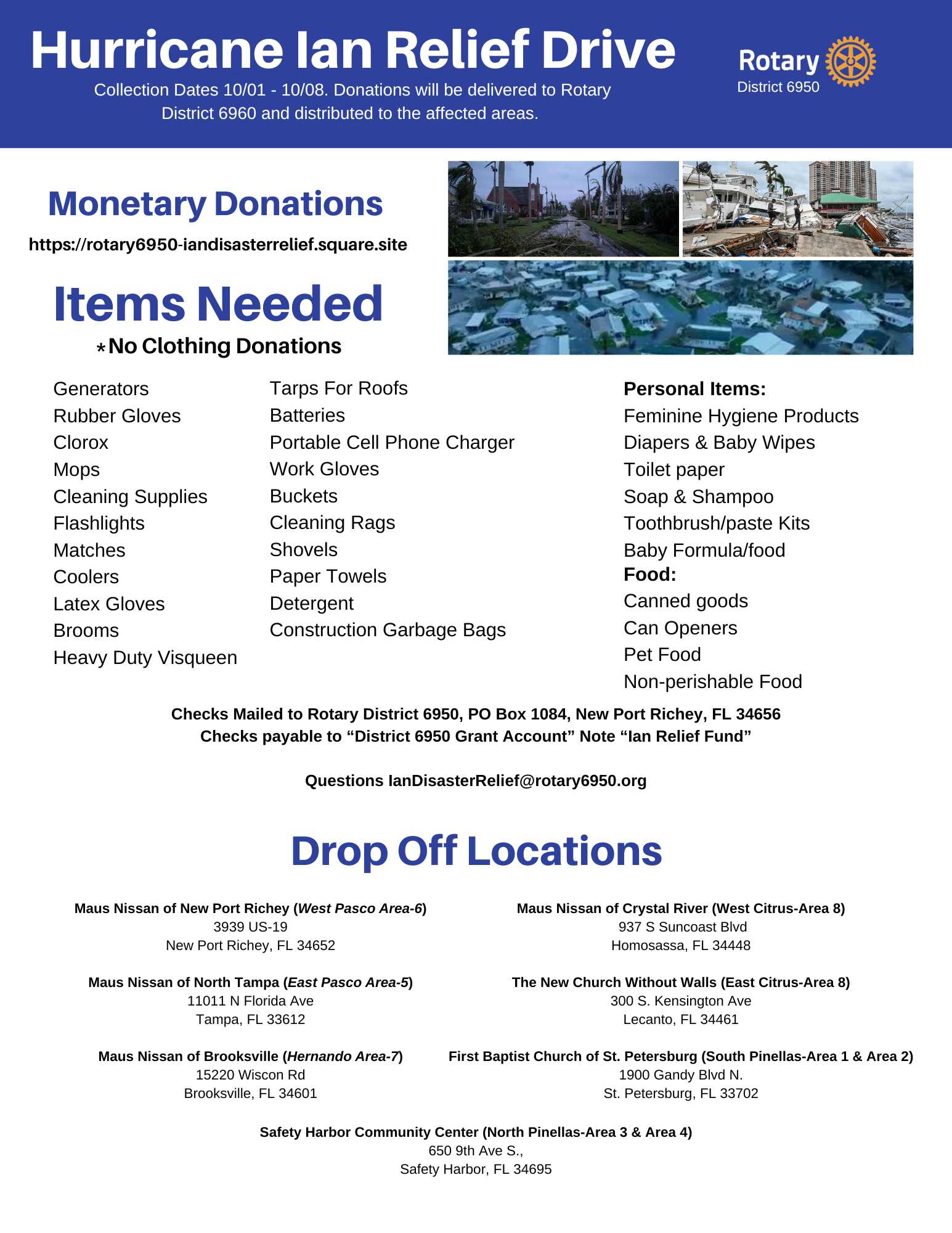 Rotary's Guiding Principles
Rotary's guiding principles have been developed over the years to provide Rotarians with a strong, common purpose and direction. They serve as a foundation for our relationships with each other and the action we take in the world.
We channel our commitment to service at home and abroad through five Avenues of Service, which are the foundation of our club's activity.
4 Way Test
Of the Things we think, say and do: is it the truth?
Is it fair to all concerned?
Will it build goodwill and better friendships?
Will it be beneficial to all concerned?
5 Avenues of Service
1. Club Service
2. Vocational service
3. Community Service
4. International Service
5. Youth Service-New Generations Service